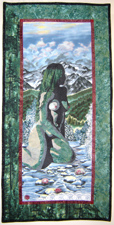 Remembering Winter: Midwinter Woman
21"x42"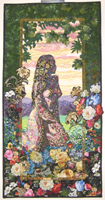 Remembering Summer
20"x40"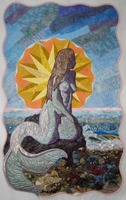 Mermaid Dreams
26"x42"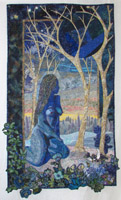 Lost Moon #4: Remembering Winter
26"x44"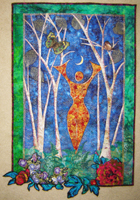 Goddess
21"x32"
The goddess is my own original design,
from a workshop I took with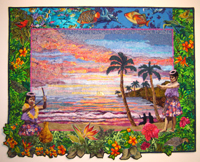 Remembering Hawaii
41"x32"
The Hawaii quilt was created for a
calendar challenge for Fairfield,
which makes batting and other
quilt/craft items. It was selected
for their 2013 calendar!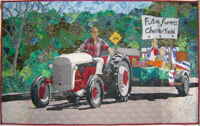 Future Farmers of Chesterfield:
Heading to the Parade
52"x32"
This piece was created for the
Chesterfield, MA 250th Celebration
Quilt Challenge in 2012, where it won
First Place. It is based on a photo
I'd taken at the parade the previous year.